---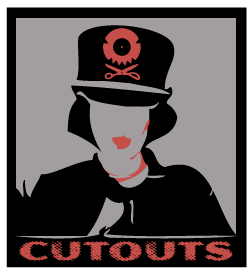 New songs in the audio section with sneak peaks.
We also have fresh new Cutout buttons. Send us an email and we'll get some to you.
---
Check back soon for some newer songs in the audio section.
We need gigs. There are shows in the planning stages but nothing definite. If you can help or have leads, drop us a line.
---
We have a new logo thanks to Dirty Dog of the Sleeping Dogs/Brainrust; yes, text is coming.

Pretty cool isn't it?
---
We recruited a bass player (the lovely Pete) and are now firmly committed to getting off our now chubby behinds and doing something glorious. The first fruits of our labours can be found in the audio section. If you need a band in a hurry, then you probably can get the Cutouts.