Race with Heart - Help Build a Race Bike in Kenya
If you can help gather parts for our friend Mark Odhiambo then please either donate directly via paypal or pledge some parts via our contacts page.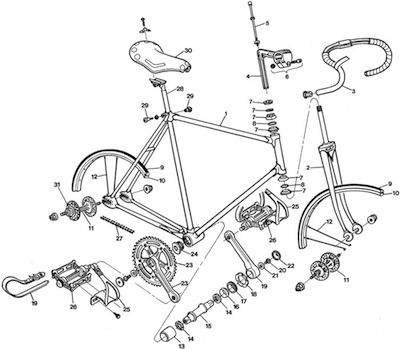 ---
10 March 2011
I'm still looking for a Chicago based organiser to help collect parts and organise shipping. If you can help with this, that would be great. (NB: John Cline has stepped up for this)
We also did a full check on Mark's road frame, which is worse shape than I thought. Looks like he will need new dropouts welded onto the frame as the derailleur hanger threads appear to be damaged. Luckily Kenya is full of welders but hopefully we can find someone who can weld and align the frame correctly.
Theres also the possibility of joining the national team training camp, but he has to have a road bike for this. The plan is to try and get everything shipped out or sent for hand delivery by the end of the month.
---
5th April 2011
Started to gather part for shipping. If you have any parts and haven't confirmed with me, please let me know asap.
---
7th April 2011
Just found up Kisumu is hosting Kenya's 1st Africa Games qualifier on April 17th. Eldoret has one on the 15th May and Thika the final one June. We're going to patch up Mark's bike as best as possible for the 17th; will try to find him a rear tire of any quality, tune things up as best as we can etc. Hopefully we can get some parts here for the 15th May qualifier.
---
18th April 2011
I missed the race in Kisumu due to Kenya Airlines cancelling my flight back to Kisumu. I'm still awaiting any official reports/results but Mark came second! Apparently someone jumped early and no-one chased him, so Mark also jumped from the pack and was left alone for most of the race. He couldn't close on the leader because of mechanical issues (bent chainrings and a worn drive train doesn't make climbing the easiest when your gears are skipping under load) but finished comfortably in second.
Hopefully the next races will go well. They should be:
8th May - Nyannuki
15th May - Eldoret
12th June - Thika
This race series seems to be point based but still not entirely sure and trying to get any information out of the Kenyan Amateur Cycling Association has failed so far.
Now have a lead on a couple of bikes/frames in Nairobi that might be a possibility. Prices range widely but hopefully we can find something suitable for him so he can really be competitive in this series.
25th March 2001
Disaster! - after a strong showing at the first African Games qualifying race, Mark took a small spill during training and his much used frame cracked at the head tube/top tube junction, as well as at the head tube/downtube junction.
Considering that the bottom bracket has already had multiple repairs, the seat tube as a number of deep indentations (as well as few repairs), the derailleur hanger is bent, this is probably the nail in the coffin for this frame.
So we're now desperately searching for a new frame and time is very short. If you want to make a donation now is the time as the next race is on the 8th May.